Handy tools for Search Engine Optimisation (SEO) & Analytics
Handy tools to help you analyse your website to improve Search Engine visibility
Jul 31, 2014 - seositecheckup.com -

1128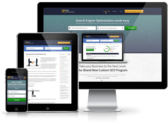 Find comprehensive search engine optimization (SEO) tools for your site
Jul 31, 2014 - wordstream.com -

1082
WordStream offers a suite of free keyword tools for keyword suggestion, keyword grouping and negative keyword research for PPC and SEO.
Jul 31, 2014 - ubersuggest.org -

1038
Get thousands keywords ideas in a minute with this amazing keyword suggestion tool: Übersuggest is Google Suggest on steroids!
Jul 31, 2014 - gtmetrix.com -

1288

GTmetrix is a free tool that analyzes your page's speed performance. Using Page Speed and YSlow, GTmetrix generates scores for your pages and offers actionable recommendations on how to fix them.
Aug 03, 2014 - google.com -

1420
Google Analytics lets you measure your advertising ROI as well as track your Flash, video, and social networking sites and applications.
Aug 03, 2014 - accounts.google.com -

1332
Google Webmaster Tools provides you with detailed reports about your pages' visibility on Google.
Aug 03, 2014 - adwords.google.com -

1318

Keyword Planner is a free AdWords tool that helps you build Search Network campaigns by finding keyword ideas and estimating how they may perform.
Aug 03, 2014 - moz.com -

1332

Open Site Explorer is Moz's Search Engine for Links. Perform competitive link research, explore backlinks, anchor text, and more for free.